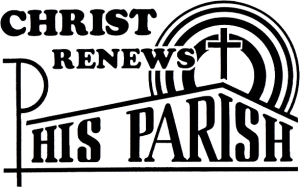 CRHP Corner
To all past participants of
the Christ Renews HIS
Parish retreat – we are
inviting all of you to get
involved again!
We are preparing to restart the CRHP retreat, in a safe COVID environment, and need your help. CRHP needs a GIVING and a RECEIVING team. Will you consider being on either team once again? Help us share this gift to all members of our parish who are looking to strengthen their spirituality and become involved in our parish community.
The Women's weekend is planned for September 18, 2021 and Men's weekend is September 25, 2021. We will begin to gather and prepare, through Formation, in the month of March.
Please pray about this invitation and strongly consider serving the Assumption parish and God in this way.
Please say 'YES'! to either
Jack Cauthen or Paula Buzar at
crhp@assumptioncatholicchurch.org,